16/Mar/2021 17:30 - 18:00
language of event
by Davide Pedranz (Bending Spoons, Milano, Italy)
From Trento to Milan by Copenhagen: here is how algorithms and data structures landed me in Copenhagen for an exclusive 4-days fully paid retreat and got me an excellent job as a Software Engineer in one of the coolest tech companies in Italy.
In this talk, I will tell you my story and how some things I learned in university help me build fast and reliable systems that serve millions of users around the world.
About the speaker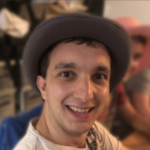 Davide is an enthusiastic Software Engineer and Tech Lead. He likes working on challenging projects, learning new technologies, traveling around the world, and dancing.
He strongly believes in monitoring, testing and automation to seek performance and perfection.
He designed and implemented internal tools for marketing and App Store optimization in the Marketing Technology team. He worked with Python, PostgreSQL, Redis, MongoDB, RabbitMQ, Google Pub/Sub, Google BigQuery, Docker, Terraform, Google Cloud Platform.