Inizio delle attività e presentazione
Saluto introduttivo
Paolo Giorgini, Direttore del Dipartimento di Ingegneria e Scienza dell'Informazione (DISI)
Saluti delle autorità
Modera la prof.ssa del DISI Giulia Boato
Paolo Collini, Rettore dell'Università di Trento
Fausto Manzana, Presidente di Confindustria Trento
Gen. Div. Ivano Maccani, Comandante Regionale della Guardia di Finanza
Franco Ianeselli, Sindaco di Trento
Mirko Bisesti, Assessore all'istruzione, università e cultura della Provincia autonoma di Trento
Presentazione del programma
Vincenzo D'Andrea, coordinatore degli ICT DAYS
Science and art, data and gut feeling
Keynote lecture di Linda Leopold (Head of Responsible AI & Data H&M Group, Sweden)
Introduce il prof. del DISI Giuseppe Riccardi
Any conversation about artificial intelligence today will inevitably touch upon ethics and responsibility. How can we best use this powerful technology as a force for good, to benefit both people and our planet? And how do we make sure that it doesn't become a mirror of existing prejudices and inequalities in our societies?
Linda Leopold will share the story of how a global fashion company put ethics and sustainability at the center of its AI journey – seeing AI as a tool that amplifies, rather than replaces, all the human intelligence, knowledge, and creativity in the organization.
About the speaker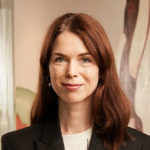 Linda Leopold is Head of Responsible AI & Data at global fashion retailer H&M Group, where she leads the company's work on sustainable and ethical artificial intelligence and data. She joined the AI department at H&M Group in 2018, after many years in the media industry. She is a former Editor-in-Chief at the critically acclaimed fashion and culture magazine Bon, and the author of two non-fiction books.
She has been a columnist for Scandinavia's biggest financial newspaper and has worked as an innovation strategist at the intersection of fashion and tech. Her passion lies in merging fashion and culture with science and technology.